Building intent audience to increase sales with Google Shopping Campaigns.
Selecting the right platform for such ad campaigns is never a straightforward decision. Adyogi's algorithms suggested Google. The reason for selecting Google is that it is more associated with intent. When it comes to solar lights, intent matters more than impulsive buying. Within Google, there are several options. Best Solar Lighting team finalized Smart Shopping Campaigns with the help of Adyogi tool's suggestion for multiple reasons. Firstly, it uses machine learning technology with improved automation. Secondly, it helps in retargeting the target audience across multiple social media platforms. Thirdly, prospecting & dynamic remarketing can be done within the same campaign. This combined with the Adyogi application, success was guaranteed. Let's see how.
The Adyogi Catalog Configuration for Product Details feature helped improve the feed quality score. The brand name was added as a prefix in the ads as customers are more likely to search products by brand name. The strategy worked - there was a marked boost in ad impressions, website traffic, & sales. Next, the Adyogi Smart Shopping Creator with Ad Group Settings & Category Exclusions feature shifted the bidding strategy to fully automated. This increased conversion, visibility in Search Engine Results Pages, & conversion value.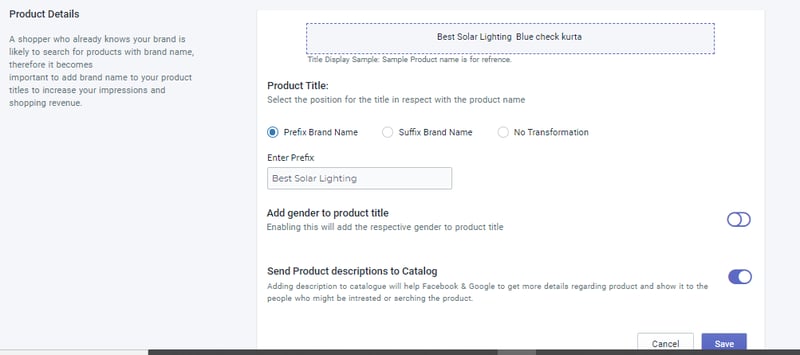 Prospective customers were shown descriptive optimized ads. Such ads are useful in compelling visitors to click them. These ads were designed by the Adyogi Dynamic Descriptions for Products & Variant Inclusion feature. The Real-time Product Synchronization & Optimization feature ensured real-time catalogue synchronization & update. It made sure all BSL products had correct descriptions. This Adyogi feature is perfect for Google campaigns as Google's Algorithm gives priority to products with descriptions and helps in more effective audience targeting.