Targeting the Right Audience to increase CTR and Sales of Premium Products
The first challenge was to determine the target market as there was no point in opting for a generic target market. Mulmul had to target women that had interest in branded clothes and the ability to pay a minimum of $150. By using the Adyogi Self Service Platform, the target market was narrowed down to 478 cities. Now, it was time to move ahead and launch the initial campaign.
As mentioned in the challenges, the CPM rate is quite high for the apparel industry. When the target market was narrowed down, naturally, the CPM would increase further. But the Adyogi platform was up for the challenge. By using the Adyogi Creative Studio Platform, the team designed images of celebrities donning Mulmul apparel. This helped improve the Click Through Rate (CTR) & reduce the overall costs. The strategic placements of the ads on Instagram and Facebook further helped the campaign.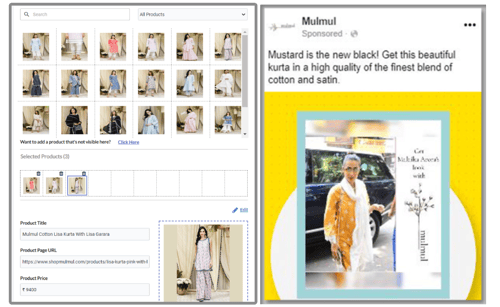 Realizing that there was a great response to the initial campaign, our team came up with short video ads. Mulmul relied on its own videos and with Adyogi's Video Creator Tool, we managed to add a more personalized, professional touch. With the help of Adyogi, the Mulmul team achieved much more than engagement and brand awareness – the campaign was highly successful in terms of conversions. The conversions were more than what the team had originally planned. The narrowing down of the target market, use of smart visuals, their strategic placement combined with new launches helped make the campaign 'highly successful'. All this was made possible by Adyogi's Self Service Platform & our team's hard work.