Category wise campaigns helped in scaling the campaigns and increasing efficiency
Category wise campaigns such as Personalized collection, Indian jewellery collection, etc which were the best performing categories on the website were created separately. Such category-based targeting helped in driving relevant audiences for the brand.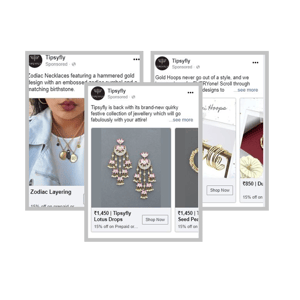 Regular creation and updating of ads
Basis creative level data analysis section on the Adyogi platform, ads with low CTR and ROAS were updated at regular intervals. This helped in eliminating ad blindness and improving the clickthrough rate by 80%.
Automatic Budget optimization

AdYogi's budget optimization feature helped in automatically allocating spends to the best performing campaigns basis backend logics and finding the best available opportunities for optimization to get better results.

Placement wise campaigns

With the help of insights from placement wise analysis section on AdYogi, Instagram placement gave higher conversions with returns of 3.5X as compared to the rest which helped in allotting more budgets here with better revenue.

Single Product video creator

Single product videos were created using the video creator which benefited in promoting best selling products for the brand individually with higher conversions and engagement .