Creating marketing strategy by implementing various ad formats to increase performance of non-discounted products.
Adyogi's campaign for the brand strategically targeted high level and style savy people .Initially same advertisement campaign were run for both discounted and non discounted products. Tresmode's discounted products had high returns and non discounted products had low returns. To increase returns of the non discounted products for men and women, AdYogi's catalog ad campaign was in put in force. This campaign focused on customers who travel abroad and who had high taste of fashion to make sure that the audience will commit to buy. Which ensured good funnel quality and conversion rates.
Adyogi used Dynamic ads to retarget audience by showing ads of relevant products to people who may have visited the website.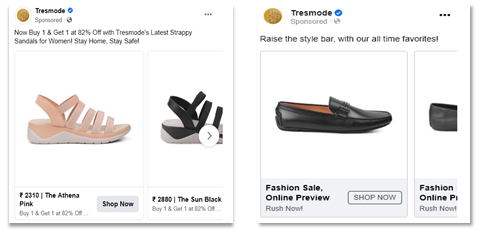 Adyogi's creative studio used custom creative such as photo shoot creative, story ad and newsfeed stories and launched these ad solutions on facebook. The ads where updated by reflecting changes in custom audience from their feed in real time. This allowed the team to persuade its potential buyers and furthermore increase the percentage of returns on non discounted products.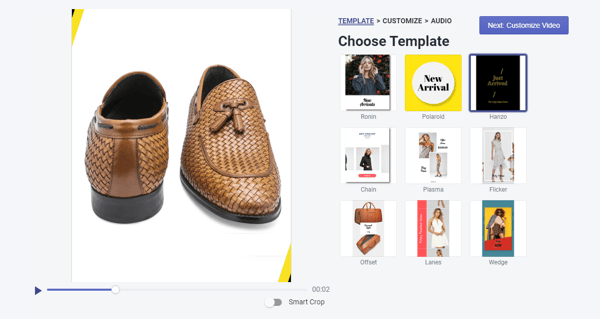 Tresmode combined their creative with Adyogi's strikethrough overlays to increase the CTR and retain their Add to Cart dropouts. Adyogi's brand overlay was also used to build in brand remembrance amongst its audience.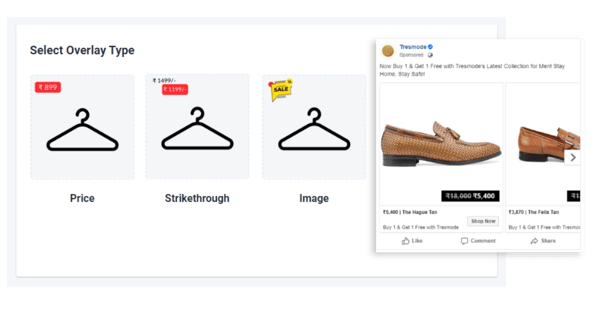 This set up allowed Tresmode to get better advantage of the ad campaign. And helped to maintain their marketing stability and increase growth of their products under all categories.