The eCommerce industry has experienced a significant transformation in recent years, with festive season proving to be a pivotal period for businesses to capitalize on the surging shopper intent. During these festive events, online sales have surged dramatically, reshaping the retail landscape. In fact, according to thehindubusinessline, in 2023, e-commerce platforms have reported a substantial 30% surge in order volumes when compared to the previous year 2022.
To stay competitive and maximize your eCommerce business's potential, it's essential to implement effective strategies that can 10x your festive sales.
In this article, we will explore how e-commerce brands can make the most out of these festive times. We'll discuss ten smart strategies that can help them boost their sales and thrive in the joyous, festival-filled market. So, let's dive in.
Why Festive Advertising Is a Gamechanger for Brands
There are a number of strong reasons why festive advertising is so important for brands, here are a few of them: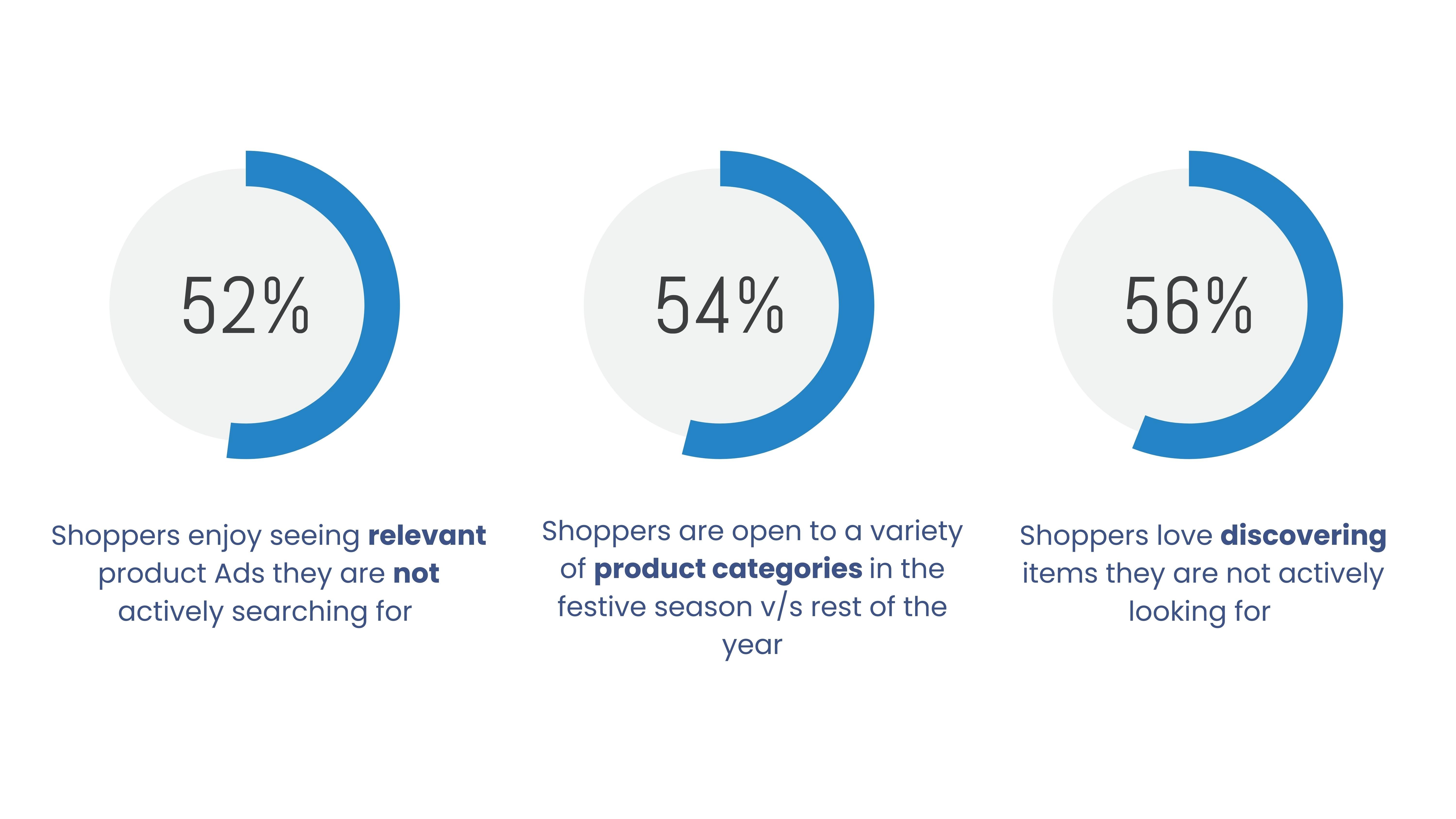 1. Heightened Buying Intent
During festive times, people are in a jolly mood and prefer spending not only on themselves but for their loved ones. According to a Meta recent report, 52% shoppers like seeing relevant Ads of products not actively searching for. So, for brands that advertise "right" during these times, it's like being in the right place at the right time.
2. Openness to New Brands
According to Meta, 54% shoppers are willing to try newer categories, brands, and goods during the holiday season. Making festive season the best time for brands to get noticed and grab a bigger part of the market.
3. Emotional Connection with brands
The crux of a successful Diwali campaign strategy is emotions. Shoppers are high on emotions and when brands evoke feelings like joy, nostalgia, or belonging, they can leave a lasting impact - turning customers into loyal advocates.
4. Seasonal Scarcity and Limited-Time Offers
Shoppers save whole year to spend during the festive season sales/offers. By creating a sense of urgency during festive season with limited-time promotions, special discounts, and exclusive festive-themed products, brands get to drive higher sales.
5. Community and Social Influence
Festive advertising often leverages the power of community and social influence. Brands can encourage consumers to share their festive experiences, gifts, and purchases on social media, creating a buzz around their products and services. This organic, user-generated content can significantly improve brand awareness and engagement.
The Challenge in Scaling Up During the Festive Season
Scaling up during the festive season in eCommerce can be immensely rewarding, but it comes with its fair share of challenges. Here are some of the key challenges businesses often encounter:
● Increased Cost of Impression (CPM): During festive seasons, competition for advertising space becomes fierce. This leads to an upto 40-50% surge in the cost of impressions (CPM) for digital advertising. Higher CPM can significantly impact the advertising budget, potentially reducing profitability.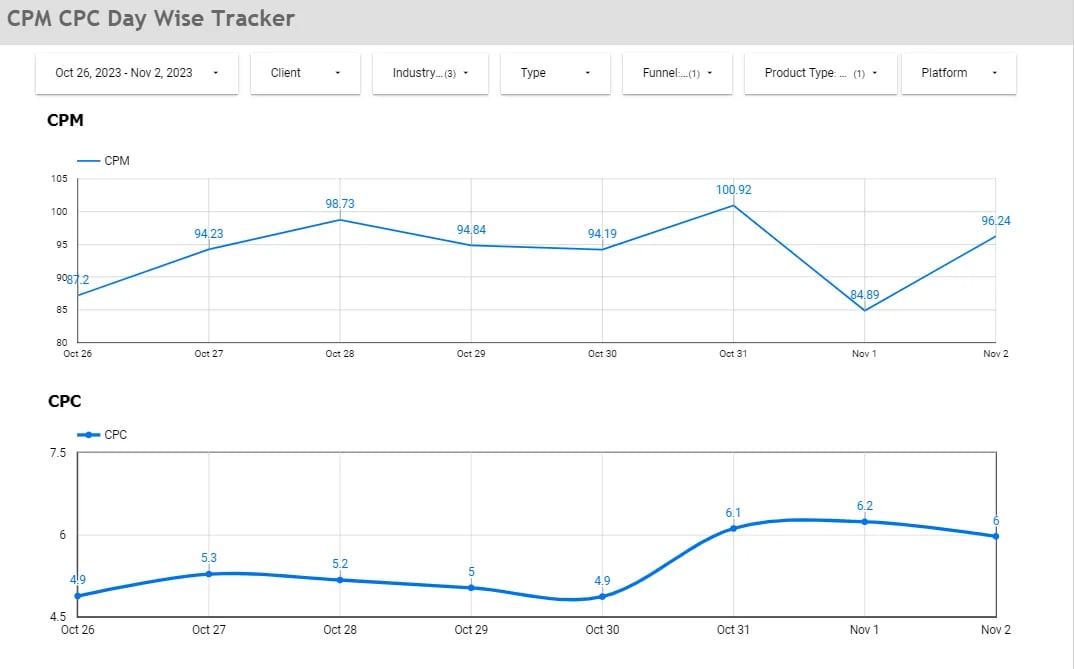 ● High Traffic, Low Conversion: While there might be a significant increase in website traffic during festive seasons, the conversion rates may not proportionally reflect this surge. Shoppers might browse but not complete purchases for various reasons, such as indecision, price sensitivity, or concerns about product availability.
● Diminished Profitability on Scaling: As businesses invest more in marketing and inventory to meet the festive demand, there can be a reduction in profitability. The costs associated with scaling up, including advertising, discounts, and logistics, can eat into profits.
● Competition from Big Marketplaces: Large eCommerce marketplaces like Amazon and Flipkart often launch mega sales events during festive seasons, such as "big billion days." This can divert consumer attention and spending away from smaller businesses, making it challenging to compete and maintain sales levels.
● Rising Return Rates (RTOs): Return-to-Origin rates (RTOs) increasing during festive seasons can be a significant challenge. Shoppers may buy multiple items with the intention of returning some, or they might be dissatisfied with their purchases. High RTOs not only impact profitability but also logistics and inventory management.
To overcome these challenges and scale up effectively during festive seasons, eCommerce businesses need to adopt a strategic approach. But, what are those approaches? Let's talk about them.
10 Effective tips to 10x your eCommerce Festive Sales
In India, the total value of goods sold online (GMV) during the festive season is expected to increase by 18-20% this year, reaching 90,000 Crore Indian Rupees, up from 76,000 Crore Rupees last year. This is according to a consulting firm called Redseer.
This year, it's the 10th consecutive year of festive season sales, where big players like Amazon and Flipkart will be competing with others like Meesho (backed by SoftBank), Tata Digital's super app Neu, and various direct-to-consumer (D2C) brands. To take advantage of this opportunity and supercharge your D2C website for revenue generation, it's important to increase your online sales during the festive season.
Here are ten effective and unique tips to help you achieve this:
1. Getting Your Website Ready
Getting your eCommerce website ready for the festive season can help you boost your sales by 10x! During festive season, people shop more, so your website needs to be attractive, easy to navigate, and secure. This is one of the very initial festive season marketing strategies.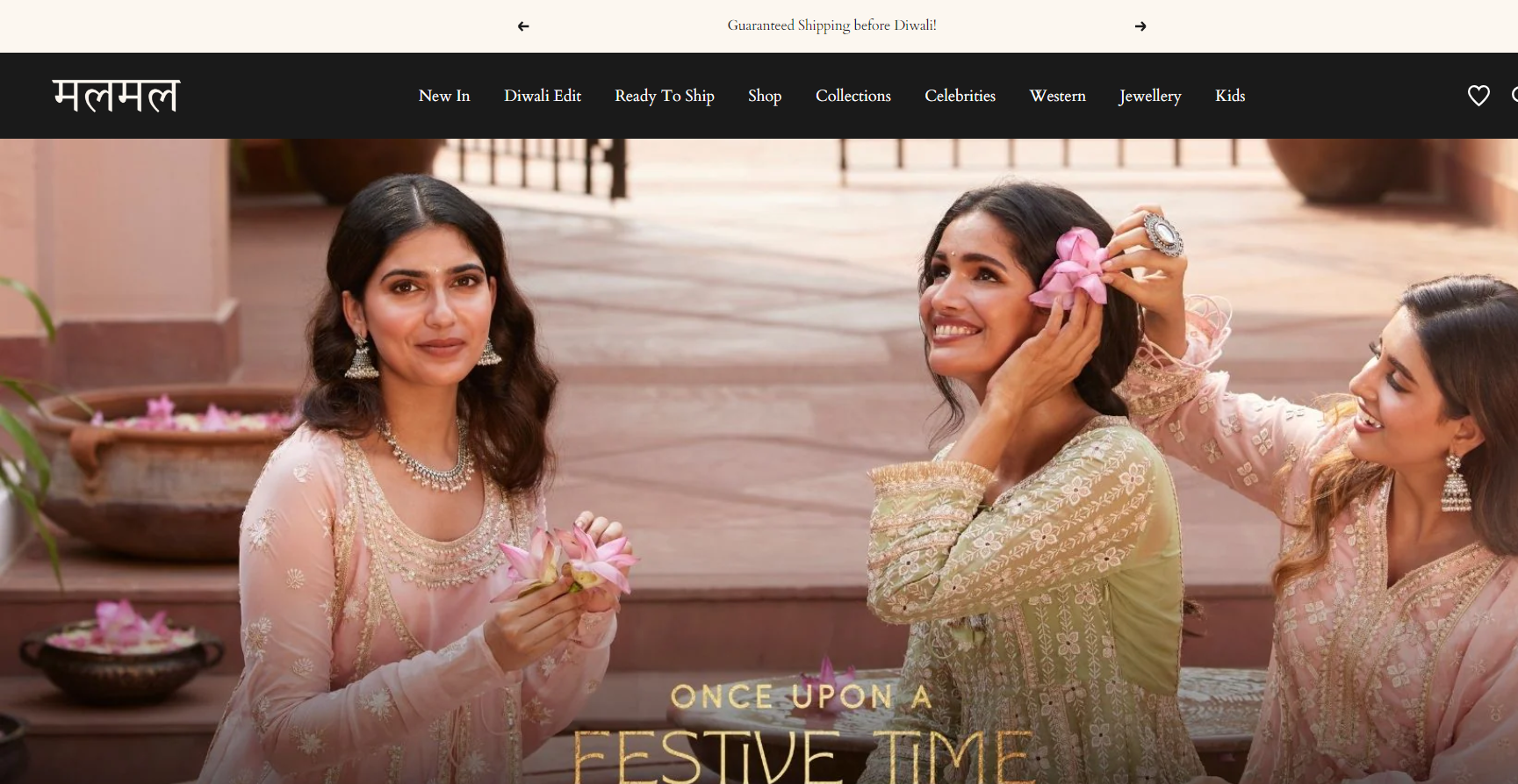 Therefore, a well-prepared site can grab the attention of more customers, provide a smooth shopping experience, and build trust. Here is how you can prepare your website for the festive season:
Give your website a festive makeover with colors, images, and fonts that match the specific event. For ex, for Christmans you can have red and white theme along with gift overlays.

Add an eye-catching hero banner that announces the sale and links to your best-selling categories.

Use keywords like "Last Few Hours of Sale Left" or "Sale Extended on Heavy Demand" to create a sense of urgency and encourage quick purchases.

Ensure that product landing pages align with your festive theme to create a cohesive shopping experience.

Add overlays or festive elements to your product images to make them more appealing and in line with the holiday spirit.
So, take the time to prepare your website, and you'll likely see a significant increase in sales during the festive season.
2.
Optimizing your digital Ads strategy
Digital Ads are key for promoting your eCommerce store during festive seasons. They're essential because they help boost your brand awareness, website traffic, and conversions.
With effective digital Ads, you can showcase your festive deals and products to targeted customers, increasing your chances of making more sales. Therefore, it becomes very crucial to capitalize on digital ads.
Here are the strategies to boost your eCommerce sales during the festive season using digital ads:
Mid-funnel campaigns: 3-4 days before Diwali, start running mid-funnel diwali marketing campaigns that show your upcoming sale or new products to people who have visited your website before. Create View content campaigns showing full-priced or coming soon Ads.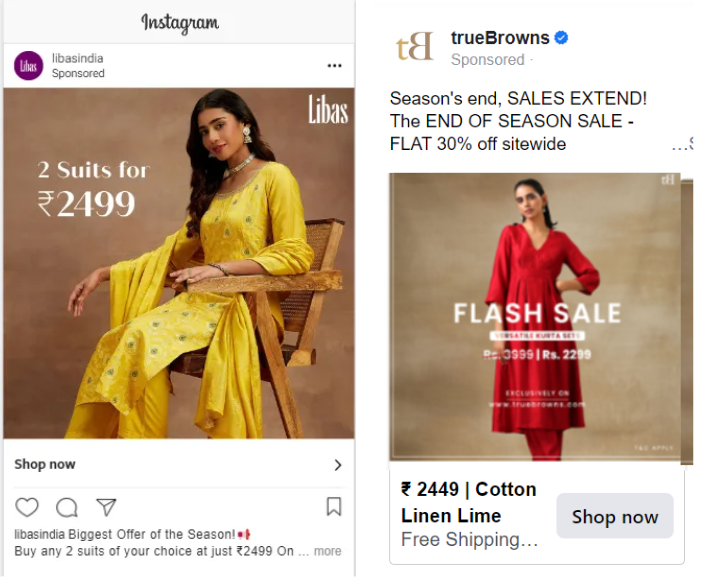 Catalog-linked Ads: Create catalog-linked Ads for discounted products that directly link to the product pages, especially those with big discounts. For ex- run ads for product with 40-50% off or > 50% off. Make sure you set a minimum return on ad spend (ROAS) goal.

Remarketing: Target specific groups of potential customers who have shown interest in your website or products, such as those who viewed certain pages, added items to their cart but didn't buy, or engaged with your site or social media. This helps you bring back people who are more likely to make a purchase.

Engage Social Media Audiences: Engage your social media audience by targeting those who visited your Facebook and Instagram pages, watched your videos on social platforms, and viewed your YouTube videos with relevant ads.

Reach Out Via Messaging: This involves using SMS, WhatsApp, and email to communicate with your customers. You can run ads that lead people to WhatsApp, where they can add items to their cart, complete checkout, and make payments.
These festive advertising strategies can help you use digital ads to improve eCommerce sales during the holidays. To achieve the greatest results, monitor your ad performance and make improvements.
Adyogi helps you manage and optimize your Ad campaigns with product-level insights. Easily identify your top-performer product, pause your under-performers, and puch budgets into potential performers. Access state-of-art catalog configurations that can help you save upto 10% on monthly budgets! Learn more here
3. Flash Sales and Limited-Time Offers
Use website Sales and Offers to boost your eCommerce festive revenue. Utilize limited-time offers, free shipping, percentage discounts, and bundle deals, for the festive period. You should also consider adding a clause of "no returns" for the festive catalog. Ensure that the discounts offered on the website are lesser or equal to your marketplace discounts to encourage website conversions.
You can spice up your website festive sales by offering different types of sales such as:
Flash Sales: These are quick, limited-time offers that create a sense of excitement. Brands like Only, Rare rabbit run website-wide "Flash Sale" that lasts for a few hours, offering bigger than BAU (business as usual) discounts.

BOGO (Buy One Get One): BOGO deals mean when you buy one product, you get another one for free or at a reduced price. It's like getting a little extra for your money.

Buy for X get Y% Off: This means when you buy certain number/ value of items, you get a 25% discount on that item. It's a great way to encourage customers to increase AOV (average order value).
Sales are a fantastic way to make customers feel like they need to buy something right away. Here's how you can do it easily:
Choose specific products or categories to put on sale.

Decide on a short timeframe for the sale, like 24 or 48 hours.

Clearly display the original and discounted prices.

Use bold, attention-grabbing banners or pop-ups on your website to announce the sale.

Emphasize the countdown to the sale's end in a visible way.
It is important to emphasize the countdown to the sale's end to create a sense of urgency and FOMO among your customers. Shoppers will be afraid of missing out on the special offer, so they're more likely to make a purchase quickly, driving up your festive sales.
4. Offer Gift Guides and Bundles
Include Gift packs and product bundles to boost your website AOV. It's important because it helps customers find the right gifts quickly and makes shopping easier. For example, during valentines you can bundle products to create a "Gifts for him" pack.
Gift guides suggest great presents, and bundles offer discounts when buying multiple items together. This can attract more customers, increase their spending, and make your online store more successful during festive seasons.
Here's how you can try using gift guides and bundles:
Create Gift Bundles: Make packages of your products that go well together. For example, If you are a fashion brand bundle different "pink" or "red" prodcuts (Dress + Heels) to launch as a Valentine's Day or Raksha Bandhan combo.

Utilize low AOV products: Bundling is a great way to amplify the sale of your low AOV product by bundling them up with a hero category.

Promote Bundles Separately: Search volume for Diwali gift packs and Christmas gift packs reaches new heights every year. So ensure you are utilizing Ads to promote these bundles across Google, YT, Facebook, and Instagram.

5. User-Generated Content (UGC)
Encourage your customers to share their experiences with your products through reviews, photos, or videos. This content is important because it builds credibility, showing potential buyers that real people like your products.
To encourage UGC, you can:
Offer Incentives: Give customers rewards or discounts for leaving reviews or sharing their experiences. For ex- 5% off on next purchase.

Create Contests: Run contests where customers can win prizes (could be one of your products) for the best UGC.

Highlight UGC: Share user-generated content on your website and social media to show others how much people love your products.
When customers see positive UGC, they're more likely to trust your brand and make a purchase.
6.
Innovative shipping options
Instead of just regular shipping, you can provide exciting choices like super-fast same-day delivery, 10% off on pre-paid orders, free gift wrapping, or the option to include personalized messages with the package. These special shipping options make the buying experience more fun and memorable.
For example, if someone wants to send a gift in Diwali, they can choose the gift wrapping and include a sweet note. By offering these extra services, you make your online store stand out and give customers more reasons to shop with you.
This Diwali Ad campaign is just like adding a little extra magic to the way you deliver products to make your customers happy and excited about their purchases.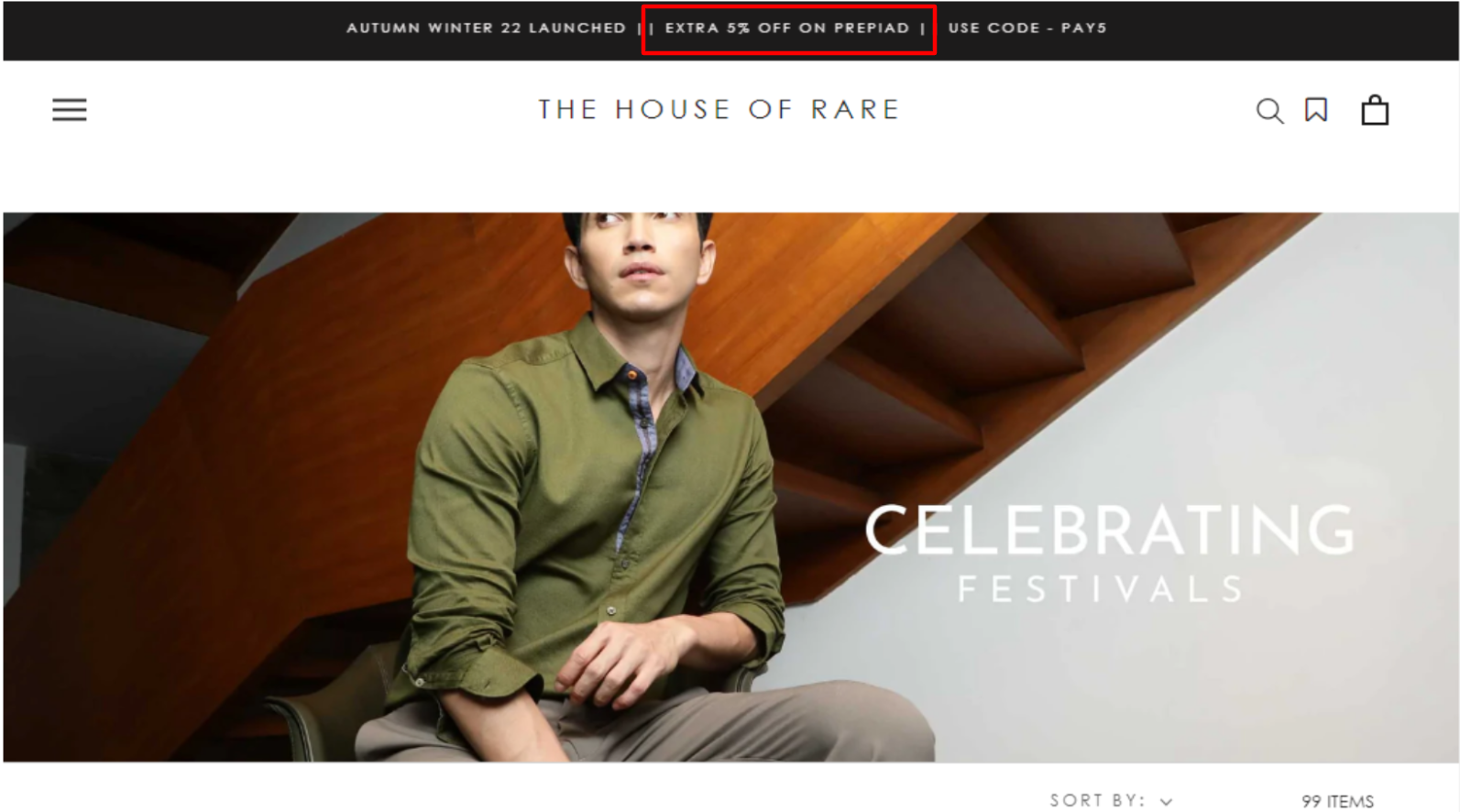 7. Maximize Engagement with Influencers
Including Influencers into your festive marketing strategy can alone help you boost CTR (click through rate) by 53% on Instagram! Not just that, it can also help in reducing CPA (cost per acquisiton) by 19%!!
Influencer marketing combined with a popular Ad channel like Instagram (reels) is a smart way for brands to connect with their target audience. These collaborations (smaller scale) usually cost around $180 per sponsored post which is more cost-effective as compared to traditional social media advertising.
Lots of online stores, both big and small, team up with social media stars to sell more. For instance, both Adidas and Nike have partnered with Deepika Padukone to promote their products. Relatively smaller scale brands like Shopmulmul are famous for collaborating with other beauty and fashion influencers to promote their collections.
8. Interactive content
Use fun and interactive things on your website to make shopping more exciting. For example, you can show products from all angles, so customers can see them like they're holding them in their hands. Or you can let people try on virtual clothes or accessories using their phone's camera. This makes shopping more like a game and helps customers feel like they're in a real store.
You can also have live videos where someone shows and talks about the products. It's like having a friendly helper while you shop online. These interactive things make shopping more enjoyable and help customers see what they're getting, so they're more likely to buy. It's all about making online shopping feel like a fun and personal experience.
9. Personalized product recommendations
To 10x your eCommerce sales during festive seasons, it's crucial to offer personalized product recommendations. This means using smart technology to suggest items to your customers based on what they've looked at or bought before.
Imagine when you shop online, and the website says, "Customers who bought this also liked that." That's what we're talking about. This feature is like having a friendly shopping helper. It helps customers discover products they might not have found on their own, making their shopping experience more enjoyable.
When customers find what they like easily, they're more likely to buy more, which can boost your sales. It's about tailoring the shopping experience to each customer. This kind of Festive Advertising makes them feel special, and ultimately helping you sell more products.
10. Email Marketing Sequences
Finally, use emails to boost your online store's festive sales. This Festive advertising strategy helps a lot if you have an online shop, and you want to sell more during festive seasons like upcoming Diwali, Christmas or new year.
Email marketing is sending special messages to your customers through email. You can use this festive marketing strategy it to remind people about the things they liked in your store or products they left in their shopping cart without buying.
Here's how it works:
Send Special Emails: You can send emails to your customers with exciting deals or discounts just for the festive season.

Helpful Information: You can share information about your products, how to use them, or why they make great festive gifts.

Remind About Abandoned Carts: If someone put things in their cart but didn't buy them, you can send them a friendly email to remind them about those items.

Personalize Your Emails: You can make your emails special for each person by using their name or suggesting products they might like based on what they've bought before.
Email marketing can help you stay in touch with your customers and encourage them to buy from your store during festive times. It's like sending a friendly reminder about your great products and deals, which can boost your sales.
Supercharge Your Festive Sales with these Amazing Tips
Boosting your online store's holiday sales can be simple and fun. These 10 festive advertising tips are like treasure maps for your eCommerce business during the festive season. They can help you boost your sales by 10 times! Remember to create a festive atmosphere on your website, offer special deals, and make it easy for customers to buy. Use social media to spread the word and don't forget to thank your customers for their support. By following these simple but powerful steps, you can make your festive sales shine like fireworks in the night sky. So, let's get started and make this holiday season your most successful one yet. Get in touch with Adyogi today!