In the world of increasingly savvy shoppers, it is important for ecommerce brands to stand out from the crowd and make actual conversions from social media ads.
India's ecommerce brand continues to grow 51% from the previous year with a sample order size of 70 million.
For an e-commerce brand to ride towards its wave of success, it should know the key levers of digital marketing. Amongst them are creative ads. These are the ones your target audience will be viewing. A good creative ad is the best way to make your audience curious and make them want to buy your products.
For eg: the leading apparel brands like AACHO'S creative wedding song of the year ad, SHOP MULMUL's carousel ads, etc. creative ads play a huge role in capturing an audience and building trust amongst the audience about the product that the brand is selling.
In this blog, we'll walk through more such examples of Creative Ads (across different marketing platforms) that convert most with respective best practices. For easy understanding, we'll keep apparels industry as our point of discussion.
Here are the best ad types that can be used to optimize your brand on Facebook and Google
Stay till the end to know about the best apps you can use as an ecommerce business to create different ad types.


IMAGE ADS
This is the easiest and most effective way of advertising on Facebook. You can create an image ad with just a few clicks by boosting an existing post with the help of an image from your Facebook page
TIPS
Image ads can be simple but not boring
Use attractive and effective image ads
EXAMPLE

VIDEO ADS
Video ads are used for a single product. And they help in driving high audience engagement. Video ads should entertain and connect with the audience.
TIPS
Keep your video short
The price should be mentioned in the headline.
Avoid mixed product videos.
EXAMPLE
Helps you select the best-selling product for your brand and create a video. Single Product Videos give an uplift in click-through rate which helps in increasing the overall conversion rate.

CAROUSEL ADS
In carousel ads, you can up to 10 images or videos to showcase your product. The audience can swipe through the multiple images and or videos, each with its own headline and link description. Carousels are great for introducing a fresh range of products.
TIPS
Use influencer images to create a custom carousel ad.
Make multiple headlines, CTA'S, etc.
Link multiple landing pages.
EXAMPLE
Influencer Images in a custom carousel ad - These could be fancy images taken during photoshoots or graphics created by a designer.

STORIES AD
A stories ad is a sudden pop-up of a product in the stories section of Facebook. Story ads include videos, images, or even carousel ads. The story ad format is great for spreading the word about a brand.
TIPS
Use tools like motion to enhance the view.
Keep the pace of the ad quick.
Optimize your images and videos to be used on fullscreen.
EXAMPLE
TYPES OF GOOGLE ADS
SEARCH ADS
It helps in attracting people looking for your brand. Google Search ads are ad texts that you see on the search engine page. Search ads appear either at the top before the organic search results or at the bottom of the page. By focusing on keywords that a buyer can intend to search for, you can reach them by offering your products.
TIPS
No images are used here, so the ad text must be creative and attractive.
Creating branded search campaigns can help you reach your customer easily.
Use dynamic search ads as they use content from your online store to target customers.
EXAMPLE

DISPLAY ADS
Display ads generate brand awareness based on images that allow you to target people who might be interested in your products. When you want to introduce your products to a potential customer then display ads are the way to go.
TIPS
Responsive display ads should automatically adjust in appearance, size, and format so they could fit all the available placements on the Google Display Network.
Don't mix new audiences with retargeting audiences.
Attract similar people to your high-value visitors.


SHOPPING ADS

These are ads ready for shoppers to buy. Google shopping ads are product-based ads. Shopping ads show an image of a product along with its product title, price, store name, and reviews. Essentially, they provide shoppers with important product information before they even visit an online store.
TIPS
Make sure your product titles and descriptions contain keywords that describe your products the best.
Make sure you have access to product info, pricing changes, and product availability at all times
The quality of the images used must be high and in a clear background.
EXAMPLE
GOOGLE DISCOVERY ADS

Discovery ads is a new type of Google ads that lets you reach up to 3 billion customers across Discover, YouTube Home, and Watch Next feeds. These ads allow you to tell your brand's story visually and let you target people who are likely to be interested in your products or services. Use Discovery ads to increase your brand awareness.
TIPS
Product details should be keyword rich in order to capture the right audience.
Images or videos must be very attractive.
EXAMPLE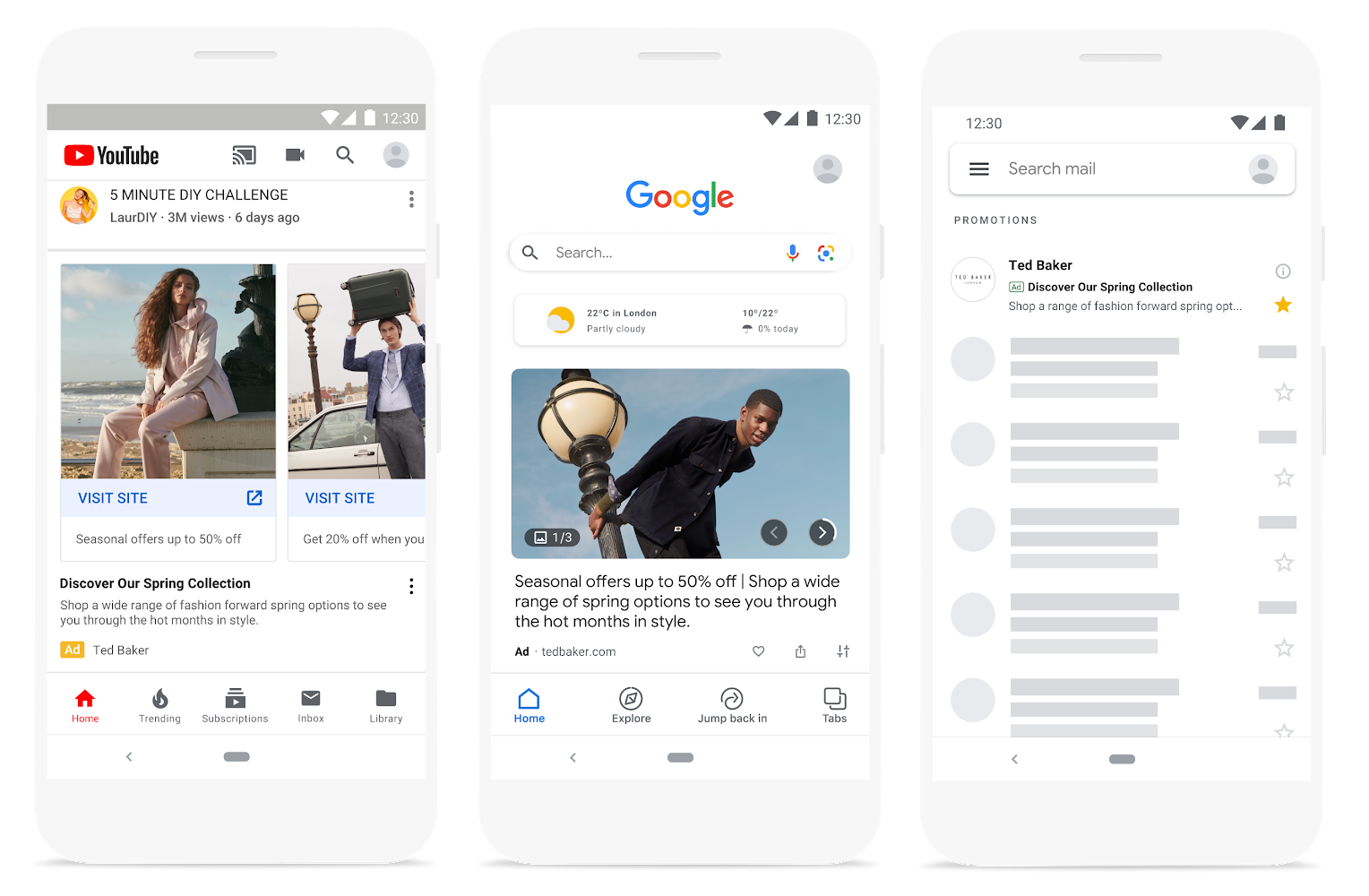 Everyone knows how tough ideating creative ads can be, and with the added cost of hiring dedicated personnel, things can take a sharp turn at any time. So, as a bonus, here are our top recommended website/apps that you can use to incorporate our above-mentioned ad creative strategies.

BEST APPS THAT CAN BE USED TO CREATE ADS.
FORMAT- STORY ADS
PURPOSE- create attractive stories by choosing different templates
APPS- unfold, Mojo, Buffer's stories creator, StoryArt, Story

FORMAT- VIDEO, CAROUSEL
PURPOSE- To edit and create videos, logos and images
APPS- Canva, Clip, Instasize, Adobe spark, RIPL, Adobe photoshop mix, Platoverse, Quik


Automate the digital marketing efforts for your budding apparel business with Adyogi today! Access the top eCommerce features with the touch of a click. Start now, click here.