Introduction
Year's one-of-the-first biggest holidays is here - Valentine's week - and while it may seem like an opportunity to show your loved ones how much you care, it is also a great time to show your customers some love. But how? By launching a Valentine's day sale and run ads throughout the Valentine week!

According to a survey 78% of global consumers wait for any sort of "sale" communication before Valentine's week to make an eCommerce purchase. A website sale optimized with key eCommerce marketing strategies can help you bring new customers to your website, increase sales, and boost your investment returns (ROAS).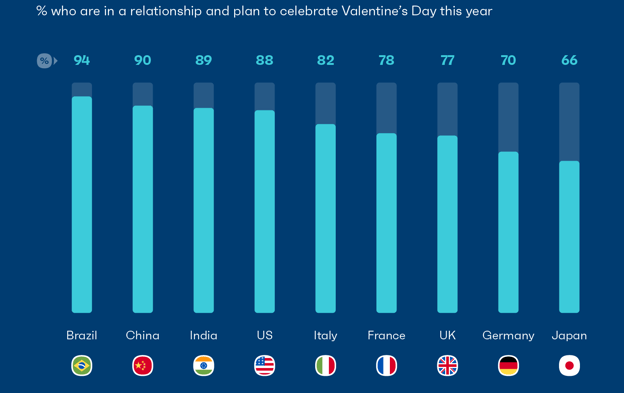 With the right sales & marketing strategy and a pinch of creativity, you can make the most of Valentine's Day 2023. Offer discounts on popular products, create special Valentine's Day packages, or offer free shipping, there are many ways to make your customers feel appreciated and get them excited about shopping on your website.
Okay we've talked enough about how a sale can benefit your customers, let's move on to how a Valentine's sale can help your eCommerce business grow in 2023.
Why should you run a Valentine's Day Sale in 2023?
First, whether you believe in love or not, your consumers definitely do! And they are more than excited to buy for their loved ones during the valentine's period. According to the NRF report, consumers across the world plan to spend nearly $25.9B this Valentine's Sale.
Last year, eCommerce businesses saw a 32% growth in Valentines sale order volumes for Tier 3 cities and 20%+ in Tier II cities
Second, February welcomes a new season and hence a change in the customer behavior and preference - depending upon your location and category. For example; In India, February is the perfect time to shift the focus from the ongoing winter catalog to a Spring/summer catalog. And, a Valentine's day Sale is just the right bridge to transition smoothly. Start a preview launch of summer categories with the Valentine's sale.
Third, Since it's the start of the year, most businesses are evaluating their past-year performance. This is also a time when businesses are open to experimenting with newer strategies to better that performance. As a result, BAU run rate is usually high. Therefore, a good time to launch a sale for business growth.
Marketing strategies to run an optimized eCommerce Valentine's Day sale
1. Start the preparations early
Brands that launch Valentine's day sales 7-12 days before the V-Day see a 28% rise in order volume during the pre-launch phase
Optimize your eCommerce website for the sale
Customize your website for Valentine's day sale - "love is in the air" - communication. Go pink/red! Update the hero banner with the relevant theme, offers, discounts, and sale category sections.
Another interesting idea is to add a sale end countdown to alert customers and create urgency.

PRO TIP: Get a Valentine-specific product line or category including combos. Leverage the valentine's sale to either sell-out the remaining winter collection or launch the new summer collection! New product launches usually get significantly higher ROAS than existing collection
To show your love, offer your customers free shipping, conditional free shipping on pre-paid orders, or a love-ly coupon code; 20–50% discount is a nice touch as well.
2. Set your marketing campaigns right
Launch Add to Cart and Video View campaigns on Facebook ahead of the sale to drive brand awareness and traffic.

Similarly, start running Discovery Ads on YouTube in the top cities for the top performing categories during the pre-buzz period.

Optimize mid-funnel campaigns with landing page views 3-5 days before the sale. Exclude all the audiences who had any engagement in the brand in the past to reach new customers.

This way, campaigns can get out of review, some learning can come in and maximum scale during the weekend with no interruptions.
3.
Get creative with your ads for Valentine's Sale
Use sitelinks extensions for better CTR and promote your valentines sale communication. For example, Valentine's combos under XYZ, Last day of SALE,




Over 65% of buyers rely on influencers to get inspiration for gifting ideas, so it'd be wise to include micro, macro and even nano influencers in your Ads.

Add Custom overlays of hearts, pink frames, balloons, etc. to your ads to improve CTR by 30%!
Keep the Ad copy very interesting and creative. Use Adyogi's AI ad generator helps you to craft high converting ad copies for your ecommerce brand.
Taglines such as - 'Treat yourself for this Valentine's day', 'Last minute gift ideas for your loved ones' 'gifts for him' 'gifts for her',etc. Can be used with optimized and eye-catching words to attract customers.

Create urgency on website as well Ads with messaging like 'last day sale', 'buy now', 'quick' or 'hurry up last day of sale'
4.
Let your community know that love is in the air, or not
Run a quick social media hygiene check to ensure your prospect audience is well aware of the upcoming sale.

Create sale-specific hashtags to use across SM channels to maintain brand identity. Brands like Chumbak, Nivea and Parle created their own hashtags for the Valentine season to drive more brand attention.
Offer a little something to your single prospects as well!
4.
Make sure you've allocated the budget wisely
Make use of automated budget optimizers to effectively manage your Valentine Day campaign budgets during the sale. You can use Adyogi's ABO feature to automatically invest in campaigns and ad sets that are performing for you and take advantage of opportunities as they arise.
You can also take budget allocation up a notch with Adyogi by configuring the best performing products and categories. Use our stop-loss feature to pause/hault your low performing categories.
5. Run Catalog-sale campaigns
Create a catalog for categories/products that you want to promote during the Valentine's sale. Include a detailed list of categories/products available for sale, along with the prices and discounts. Run catalog-linked campaigns for the same to generate over 2x conversions! These campaigns are dynamic in nature and will automatically update as per the most interacted products so you can keep a check on the performance as well. Make sure you target visitors who have shown interest in your sale products before with catalog-linked campaigns.
6.

Choose the right Adset
Valentine's Day is the perfect time to really drive sales, and so Adset optimization is key. The goal of any Adset should be to refine the target audience and to provide relevant content to them. This will help reduce wastage of budget, and result in higher conversion rates; thus making a campaign more successful overall. Moreover, when budget constraints are taken into consideration, it becomes even more important to optimize Adsets in order to maximize results.
When creating an Adset for a Valentine's Day sale
It should only include sales ads for engagement campaigns and customer campaigns. Sale ads can push budgets by 10% in customer campaigns.

These tailored Adset campaigns will fetch you optimal results.
7.

Remarketing and Retargeting are the best weapons
Re-engage with website users and target people who have visited product pages, Shoppers who have left items in their carts, Visitors to your homepage and category page and subscribers from blogs and other sources.

You can also reach out to visitors and followers from Facebook and Instagram pages, audiences who have watched videos on social media and YouTube by showcasing them Valentine sale ad through retargeting campaigns.

Using marketing automation is a great way to impact people who were already interested in your products at the last minute. Don't forget to send reminder emails/SMSs and WhatsApp messages. But don't overdo it. Make sure you keep a frequency cap on a per customer basis.
What else to do :
Classify your audience into demographics such as gender, age, familial connection, and parental status.

Make sure the design of your online store is optimized for mobile use. It should be able to load quickly and have an uncomplicated checkout process.

Utilize applications to alert your potential buyers of special deals, discounts, and early bird offers during the Valentine Sale period.

Assure on-time delivery.

Grant complimentary gift wrapping.

Remarketing: send ads to visitors of a specific website that are pertinent to them.

Compose an email message to your customers from last year and remind them about Valentine Sale offers.

Take into consideration collaborating with a company that offers related services, such as spa services and flowers. This way you can promote a buy one get one free offer.



To sum up... It's never too late
Don't let time be the reason for not making your Valentine's Day sale campaign a success!
Adyogi can provide you with all brand solutions and best campaign structuring for your brand for Valentine's week while you can relax and celebrate Valentine with your loved ones and family.
At Adyogi, we make advertising easier and more profitable for e-commerce businesses across the globe. We've been able to increase eCommerce revenue by 7x - 8x through Adyogi's performance-based solutions.
Get in touch to see how we can help you grow your business online.