It is no secret that Meta platforms - Instagram, WhatsApp, and Facebook are the biggest social media platforms comprising a huge user-base.
Out of 4.6 billion global Internet users, 3.59 billion people use at least one Meta app every month: Facebook, Instagram, Messenger, or WhatsApp. Many use more than one.
Digital marketing through these platforms is the easiest and most efficient way to reach a large number of people for your e-commerce brand. Like any other marketing strategy, setting up a funnel is crucial to successful marketing campaigns on Meta platforms. Reach out to new customers, generate leads, convert them as quickly as possible, and finally ensure that they maintain brand loyalty.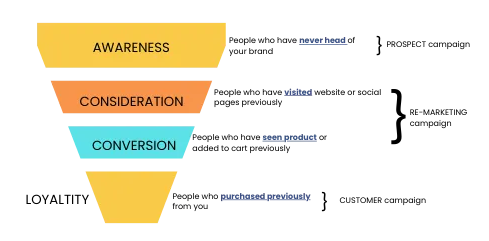 The funnel-based approach is based on a simple principle- divide your audience in different parts on the basis of their engagement with the brand. In this blog, we'll separately discuss the best practices to be followed at each stage of the funnel an budget maximization across campaigns to maximize ROAS.
Top Of The Funnel
The top of the funnel will constitute of people who have never heard of your brand and is your place to build 'awareness' about your brand. Your ads here will be the 'first prospect campaign.'
Three questions you need to ask yourself while setting up ad campaigns at this stage-
What should I optimize my campaign for?

Who should I target in my ads?

What should my ad contain?
Best practices for top funnel Facebook ad campaigns
Ad should show price and 'shop now' as CTA to filter audience with intent & ability to buy.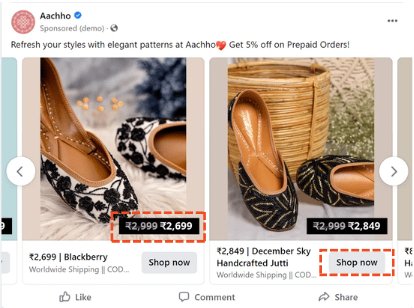 Ad should showcase specific product(s) and land people on the product page
Ad format to be picked based on the type of product. For example, for Supplements, Newsfeed helps in showcasing Flagship product, while carousels work better for apparels.
Ad-set should have broad targeting to allow Facebook to optimize. Run for Top 65 cities or Top 200 cities. Pro Tip: Avoid running campaign across <10 cities as it increases the CPM substantially

Ad-set should target competing brands as interest groups for best performance. Pro Tip: Don't use Intersection of different interests. It will narrow down the reach potential.
The campaign objective should be conversions and not awareness or traffic. Traffic or Awareness campaigns will drive Junk Traffic which is not desirable.
The campaign should be optimized for purchases and not any other conversion event.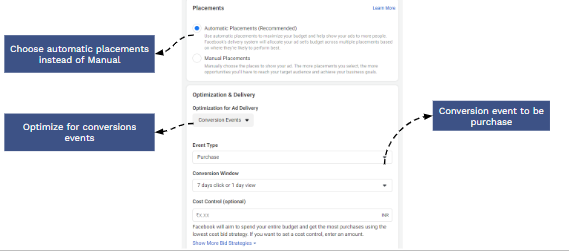 Middle Of The Funnel
The middle funnel consists of two specific groups of people-
Those who have visited website or social media pages previously

Those who have seen the product or added it to cart previously
For the first group, you will need to run 'engage' campaigns.
Only around 65% people purchase on website on the same day of seeing your products from Ads
The remaining 35% people who got dropped off, purchase in next 60 days if they are retargeted properly through Ads with same products. Hence it is important to have retargeting campaigns separately with approx. 10% of your total budget.
Different types of audiences which can be re-marketed-
On Website-
Product page visitors

Cart abandoners

Website homepage and Category page visitors

Subscriber database from blogs etc.
On social media-
Page visitors on Facebook and Instagram

Video view audience on social platform
For the second group, you need to run dynamic remarketing campaigns.
Best practices for dynamic remarketing campaigns-
The campaign objective should be catalog sales
Ad messaging should focus on the status of the customer and be contextual.

Pro Tip: Give special discounts on remarketing ads. It helps in increasing your conversion rate.




Adset should target people who have viewed products but not purchased
Bottom Of The Funnel
Lower funnel consists of all those people who have purchased from you previously. Here you run 'customer campaigns' for increased repeats and increased brand loyalty.
Run dynamic ads for product page visitors and cart abandoners
Retarget all audiences who have interacted earlier:
1. Home & Category Page visitors
2. Facebook & Instagram Page audience
3. Video viewers on Youtube and Social media
Upload offline email and phone number data to target existing customers with new arrivals
To sum up...
Full funnel marketing with Meta platforms is an amazing way to tap onto a huge audience base and generate revenue. You need to be aware of and act on the best practices at each stage of the funnel- Awareness, Consideration, Conversion, and Loyalty.
Setting up successful ad campaigns for each stage of the funnel is crucial but technical. This is where AdYogi can help you!
Adyogi, a digital advertising creative platform helps e-commerce businesses save time and generate more revenue. We automate digital Ad creation to establish an automated prospecting, targeting, and retargeting approach that targets the client's merchandise and cross-promotes using cutting-edge technology, to boost sales. We've been able to increase client revenue by upscaling it 7x - 8x through Adyogi's performance-based solution.
Get in touch to see how we can help you grow your business online.