India is the land of Festivals - Holi, Eid, Onam, Dussehra, Diwali, Christmas, and the list goes on. The cultural energy in the air and the excitement in the hearts of consumers make the festive period the best time for e-commerce brands to scale their businesses rapidly.
A recent survey found that the number of shoppers in the 2021 peak festive period increased by 1.2x and gross GMV was boosted by 1.25x.
The stats imply just how crucial the festive period is for eCommerce brands to both look out for new customers as well as engage with the loyal buyer-tribe.
After digging into the details of festive growth on an eCommerce category level, it was found that the hero categories of the season are Fashion (apparel, jewelry, footwear, cosmetics) and Electronics followed by the other highly scalable categories like home decor, wellness, and FMCG.
So, the bottom line is, if you have an e-commerce business and you wish to scale your business, the festive season is the time for you! And this blog is the place for you to grab the top strategies to scale up e-commerce festive sales by 10X!
We've helped over 300+ brands scale their eCommerce business using Facebook and Google advertising. Want to know how we can help your brand specifically? Click here
Before we start with the festive season, let's understand the challenges that you will have to overcome in order to grow profitably.
CHALLENGES FACED IN SCALING UP DURING THE FESTIVE SEASON
Cost of impression (CPM) increases due to which profitability drops

A lot of traffic on e-commerce websites during the festive season but for some reason, it doesn't convert

Able to get good returns from my campaigns but profitability drops on scaling

Marketplaces like Amazon and Flipkart typically launch 'big billion days' which impacts my sales

The RTOs are on an almost constant uptrend
FESTIVE MARKETING STRATEGIES TO TACKLE THESE CHALLENGES AND SCALE-UP PROFITABLY
1. Launch festive specific collection ahead of the festive season
New product launches usually get significantly higher ROAS than existing collection

Good practice to name new launches as specific categories like Diwali collection or Dussehra collection

Pro Tip: Each new collection should have 20-40 new designs depending on catalog size

Separate campaigns and creatives to create for the new collections.



2. Run discovery ads on Youtube to drive awareness ahead of the season
Discovery ads are feed ads on YouTube similar to feed ads on the social platform. Unlike others, CPCs are much lower

Follow similar best practices for discovery ads

- Optimize for conversions

- Custom intent audience for targeting

- Specific product ads instead of a category/brand ad

- Price in ads copies to pre-quality audience

- Land on the product page to reduce the path to purchase
3. Bundle products into festive combos to increase AOV
Set up a unique name for the sale as a way of making an impression on prospective customers

Make specialized YouTube videos for the sales

Use combo products i.e. bundles to increase transactions
3. Scale performance max to capture the high-intent audience
Show sponsored products via Google smart shopping campaign.

Intent traffic, hence higher chances of conversion.

Use optimization goals as maximizing conversions without target ROAS.

Lands prospects directly on the product page and can be later re-marketed via dynamic ads.
4. Run mid-funnel campaigns optimized for landing page views 3-5 days before the sale
Build funnel with LPV-optimized campaigns at a lower cost

Exclude all the audiences who had any engagement in the brand in the past to reach new customers

Typical CPCs around INR 4-8 on FB / Instagram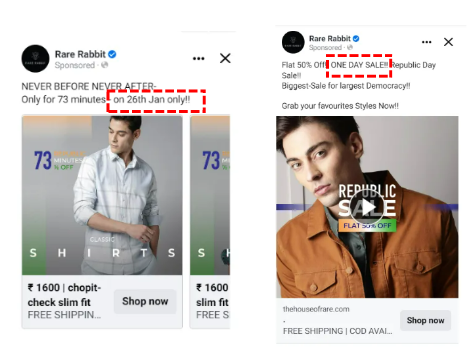 5. Showcase specific product(s) and land people on the category page
Drive traffic to the category page that is occasion-specific - e.g. Durga Pooja, Ganesh Chaturthi, etc

Target audience based on the popularity of the occasions (categories) - e.g. Durga Pooja is huge in the Eastern states, Diwali is a bigger festival in North

You can use ad formats that are more likely to land people on category pages e.g. over multi-product videos, slideshows

Show related products at the bottom of each product page to increase no. of views per session.
6. Run video view campaigns to build excitement ahead of the festive season
Cost of Video ads is usually lower than other ad formats e.g. carousel You can create an attractive and engaging video with the help of a free video editor.

Use single-product videos landing on product pages instead of brand / multi-product videos

Video view audience can be further re-marketed to get additional sales
7. Diversify spends across platforms to tackle high CPM rates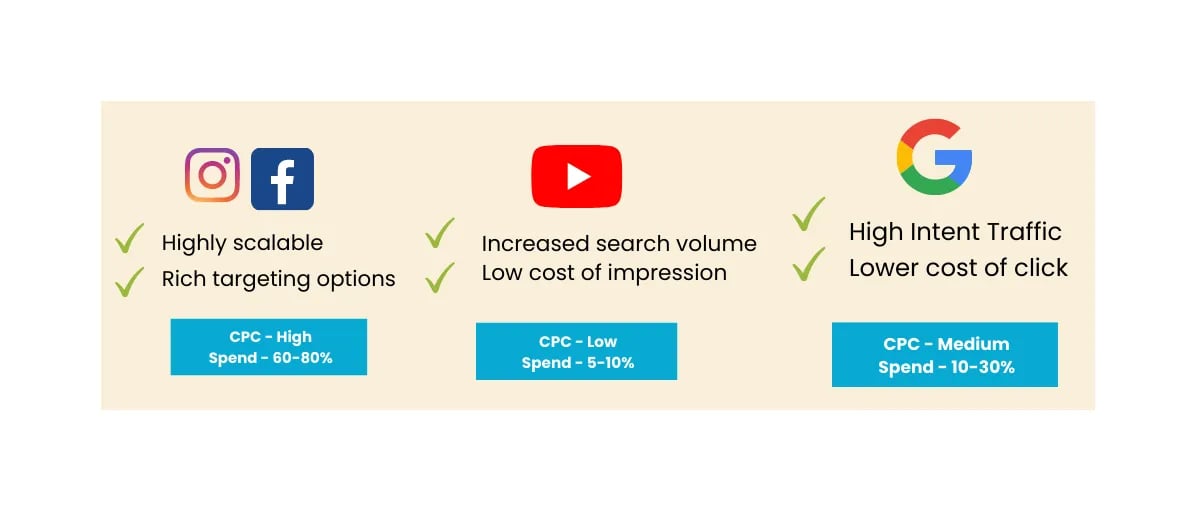 8. Use festive-specific overlays to capture user attention and increase CTRs
Enable Strikethrough overlays to highlight discount

Use image/frame overlays to get higher CTRs.

Use different overlays for different categories For example in Men's category use "gifts for him" overlay and similarly "gifts for her" overlays in the women's category smart ads.

9. Use segmentation or filtering to get people to buy high-value products
During the festive season, people are more likely to buy high-value products

Focus on selling high-value products on the website instead of low-priced items

Create a product set of high-value products and promote via Catalog sales campaigns

Use "Value Optimisation" to increase the AOV and in turn, maximize the ROAS from that campaign.
10. Use contextual coupon codes for discounting
Use coupon codes like RAKHI10 or DIWALI 20 to make them contextual and create some urgency

Ensure the coupon code is present on the Top banner on the website & on the product page

Include the coupon code in ad creatives for a higher transaction rate

Stick to the theme of the festival and use text on custom carousel ads - always mention the end date!
We're not done here!
Here are 2 bonus strategies for you to scale BEYOND the festive duration.
11. Remarketing is the way to go



Remarket all website visitors
You can categorize your website visitors in 4 ways to remarket-
Product page visitors

Cart abandoners

Website homepage and Category page visitors

Subscriber database from blogs etc.
Remarket Social Media audience
Page visitors on Facebook and Instagram

Video view audience on social platform

Video view audience on YouTube
12. Remarket customers with SMS, WhatsApp, and emails
Marketing automation will be a great tool to influence already engaged audience at the last min.

Don't forget to send reminder mail/SMS & WhatsApp during this festive season.
However, you need to ensure you don't overdo this. Keep a frequency cap on a customer basis.
To sum up...
The festive season can help you generate profits significantly given that you make the right moves. All our above growth hacks can be grouped together into four major strategies-
1. Prepare in advance for the season
2. Set up your campaign to capture a high-intent audience
3. Make maximum use of creative strategies in advertising and display of your products
4. Remarket to regain inactive and lapsed users

At Adyogi, we make advertising easier and more profitable for e-commerce businesses across the globe. We've been able to increase eCommerce revenue by 7x - 8x through Adyogi's performance-based solutions.

Get in touch to see how we can help you grow your business online.