One of the best ways to win customers is to put yourself in their shoes. That, however, is easier said than done. In such a scenario, e-commerce customer journey maps are the best way to understand the minds of customers and cater to their requirements while also resolving issues.
What is a Customer Journey Map in E-commerce?
In essence, a customer journey map provides a high-level overview of the path consumers follow when interacting with a brand across its varied channels, platforms and touchpoints. Being aware of this journey helps brands move customers down their sales funnel. Based on the mapping, customer journey optimization can result in higher conversions, more revenue and greater long-term loyalty.
Conversely, if an e-commerce entity struggles to convert enough visitors or receive robust repeat business, it is important to pinpoint the underlying cause. Are the product descriptions subpar? Is a mediocre user interface hurting the customer experience? Or is it some other problem? Whatever the issue, an e-commerce customer journey map can help uncover all the relevant answers.
The journey map achieves the desired objective by identifying the barriers across each touchpoint on every device, thereby enabling brands to comprehend the customers' thought processes. As a result, this knowledge empowers businesses to address the pain points or distortions during the customer journey that impacts their satisfaction levels.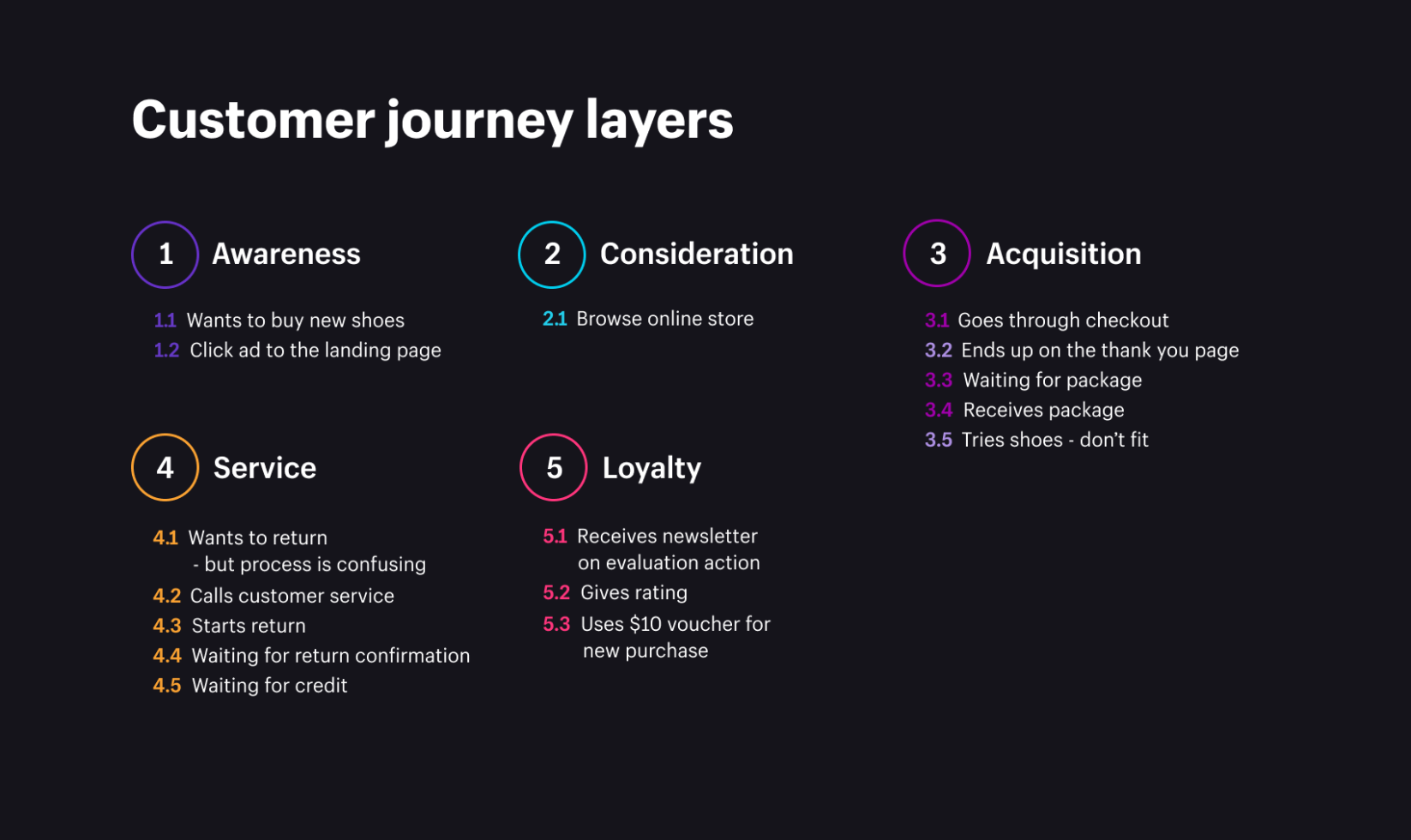 But the customer journey doesn't end when the purchased item is received. Instead, it goes beyond this. The post-purchase journey may include leaving product reviews, talking to family and friends about the brand, and, if the user experience has been enjoyable, returning for repeat purchases.
In this blog collaboration with Simpl, we'll discuss the stages in an ecommerce customer journey map along with the best practices to create a customer map journey.
The 6 Stages in a Customer Journey Map in E-commerce
At this point, one arrives at the stage of creating an e-commerce customer journey map. An effective map must be segregated into six stages: awareness, consideration, purchase, post-purchase, retention and advocacy. Here are brief points of each stage and how to tilt them towards conversion:
Awareness:
In this stage, customers find brands through Google searches, online advertising, reviews, word-of-mouth recommendations and other channels. By using the right channels, brands can ensure their target audience is aware of them.
Consideration:
When visitors discover a brand's website or app and browse through its catalogue, it is the consideration stage. There is a strong possibility they are comparing the brand with rivals. To capitalize on this opportunity, brands should create a seamless UX (user experience) via a platform that is easy to navigate. The UX can include engaging photos, product descriptions and best reviews.
Purchase:
Also termed the acquisition or decision stage, this represents a make-or-break moment when customers decide whether to go ahead with the purchase by adding the item to the shopping cart, giving their payment information and doing the purchase. This stage continues till the product is received. Here, brands should make the purchase experience as simple and seamless as possible.
Post-purchase:
Also called the service stage, if a customer wishes to exchange, return or repair a product, the options to do so should be obvious and easy. The aftersales service experience must be as smooth as the purchase journey to promote overall customer satisfaction.
Retention:
The purchased item later needs to provide consistent value while the portal and aftersales service also augment overall customer satisfaction. If these boxes are ticked, long-term retention of customers could be assured.
Advocacy:
The final stage concerns whether customers will recommend the brand's product or service to others. Advocacy can be a crucial element in the customer journey that could drive greater sales and revenues. This stage is equally critical as positive customer reviews, social media posts and word-of-mouth publicity that facilitate repeat purchases are all essential for the sustained success of e-commerce platforms.
How to Build a Customer Journey Map for E-commerce?
The three steps to create a customer journey map for e-commerce are:
Define the customer profile:

E-commerce entities must have a clear idea of target customer cohorts to build an effective journey map. The gender, age, location, occupation, income levels and interests of customers are all crucial. How do they benefit from the product? What are their problems, dreams and aspirations? Answers to these queries will help build meaningful profiles.

Analyze the relevant data:

E-merchants should dig deep into all available data regarding customer interactions with their website and social media pages. An excellent means of tracking this is via the Google Analytics Behavior Flow Report. This indicates the traffic flow through a website that e-tailors could use to pinpoint the common pathways and discover the ones that lead to more sales. For instance, after viewing products, are potential purchasers going directly to checkout or returning to browse for additional options? Such answers can provide useful insights.

Identify the vital touchpoints:

A touchpoint refers to any moment when a prospect or customer comes into contact with the brand. E-merchants must list out every way that customers can interact with brands. This could cover everything from viewing a social media post to search results, leaving reviews, speaking with customer care, etc. Moreover, the list can be categorized into before, during and after purchase. All of this will allow e-tailors to perceive things from the customer's angle.
On the same note you can use start leveraging a bevy of AI tools that are now recently available to aid you in mapping your customer journey
Why Customer Journey Mapping is Important?
Here are the main reasons why this is important:
Indicates how customers interact with the business:

Customer journey maps enable e-tailors to step into the shoes of customers and potential consumers to see how they interact with the business from their viewpoint. This process can offer unexpected insights.




Emphasizes what customers need at different stages of the sales funnel:

Journey maps show gaps in user experiences. This permits the creation of content and touchpoints currently missing at specific stages of the buyer lifecycle. Perhaps they need to speak to a customer service executive to resolve a problem but the option isn't available.



Highlights needs and pain points:

To create a customer journey map, one must be clear about the customer's requirements and pain points. The research phase involves creating detailed customer profiles that uncover several needs and pain points across the entire customer experience that one may have missed.



Helps identify major issues with the customer journey:

Journey maps comprise general and specific stages. Sometimes, there could be major errors in the customer journey. For example, retailers may be coercing customers to move from consideration to decision or purchase too quickly by revealing decision-linked touchpoints at the consideration stage.




Showcases shortcomings in the customer journey

Few businesses have ideal customer journeys. Customer journey maps indicate missing, underdeveloped and underperforming touchpoints. Journey maps must include satisfaction ratings for every stage of the current customer journey based on feedback and data analysis. Viewing these experiences will reveal areas needing further development.




Reveals optimization and development priorities

Besides highlighting problems, journey maps can be used to establish priorities. One can pinpoint the vital goals, KPIs and stages to allocate resources to the related touchpoints.



Permits targeting of resources for optimum returns

After areas are prioritized for development and optimization, one can view touchpoints most in need of improvement and likely to have a major impact on the bottom line. This allows one to make appropriate revenue-driven decisions about the customer journey aspects to focus on as part of the overall optimization strategy.
Creating Smooth Customer Journeys
A smooth purchase journey is indispensable in ensuring long-term customer loyalty. As mentioned earlier, this comes down to understanding the needs and preferences of customers and making sure the right messaging is communicated across all marketing channels.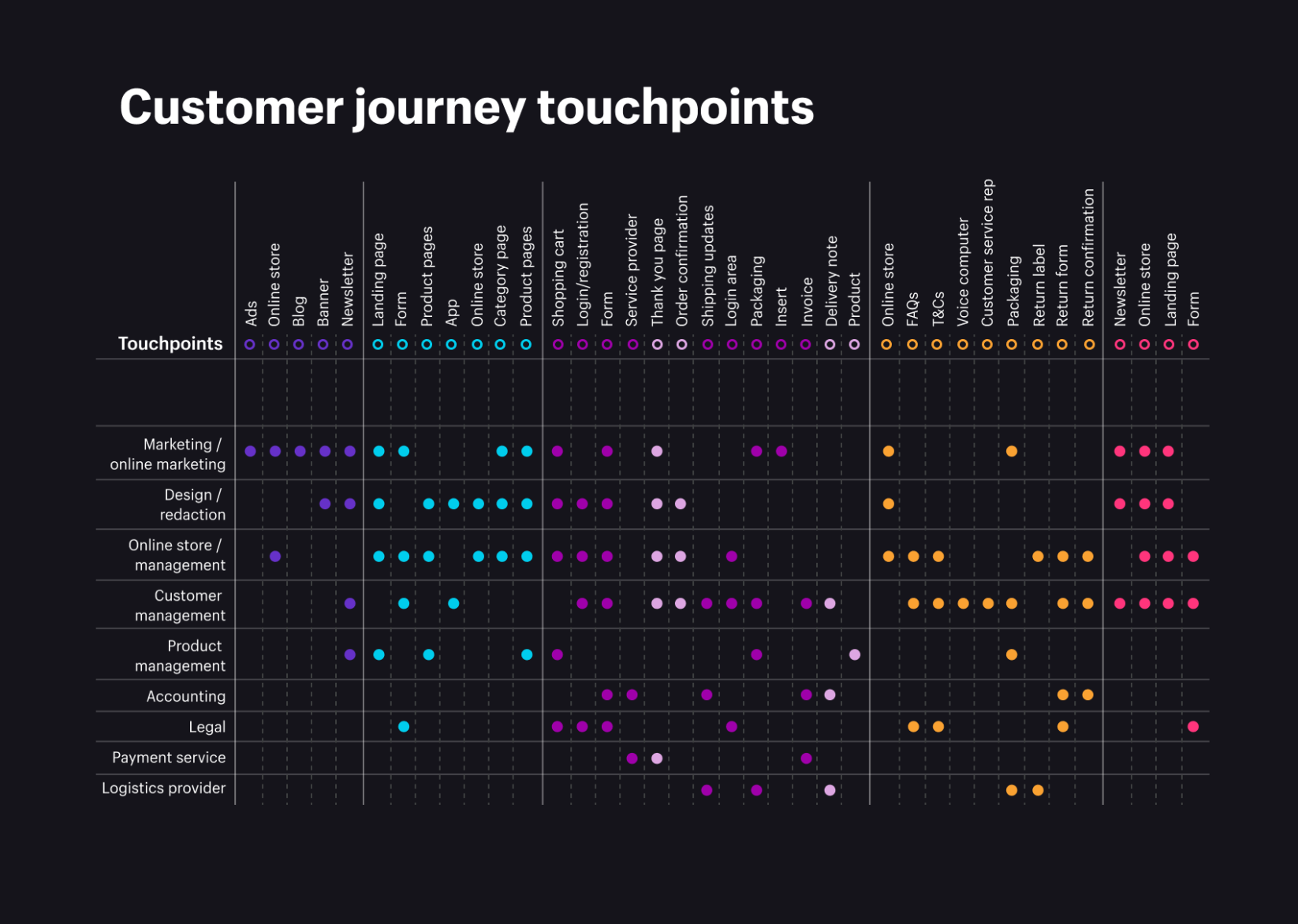 To enhance the customer journey, e-commerce platforms must implement five steps:
Understand the buyers' persona:

To enhance the customer journey, the first step is understanding customers by developing personas. This is done by getting into their shoes, knowing how they behave, their likes and dislikes, etc. As every customer is unique, create individual personas for each buyer.

Know buyers' goals:

Next, dig deeper to discover what each customer aims to achieve as he/she undertakes the buying journey. Visualise the ultimate goals in each phase while noting that these may change as the process unfolds. These goals may include researching the various options available, ascertaining that they are paying a fair price, ensuring they have all the requisite information about the product, etc. The platforms must then make certain they are answering these questions.

Outline buyer touchpoints:

This includes all offline and online touchpoints. Some touchpoints could be more crucial than others. For instance, a poor check-in experience at any hotel can affect the entire stay. By considering all potential touchpoints, e-commerce portals can tap every opportunity to listen to customers and make the necessary improvements to keep them happy.

Pinpoint customer pain points:

All the available data should be used to identify potential pain points or hurdles in the customer journey. This will then make it possible to devise ways to improve and eliminate the barriers.

Prioritize issues and remove roadblocks:




Check the customer complaints, feedback and the captive data to know what areas require a revamp or elimination. Every eliminated hurdle takes customers a step closer to conversion.
The guidelines enumerated above can help in mapping all relevant touchpoints and identifying those where prospective purchasers are stuck or drop off. This information can then be leveraged to build a more optimal, frictionless and pleasant customer journey that ends in more enjoyable experiences.
Finally, remember that customer journey mapping remains an ongoing process. Consequently, maps must be updated periodically. Although this may seem a cumbersome process, it's the best way for e-commerce platforms to engage and empathize with potential buyers while adopting a more customer-centric approach. More customer conversions could then be a foregone conclusion.
And if seeking seamless payments, look no further than Simpl. Its 1-tap checkout, promises speed, trust and convenience in a single payment experience. Simpl is trusted by over 26000 merchants, and millions of users. These numbers are expected to only rise with time.