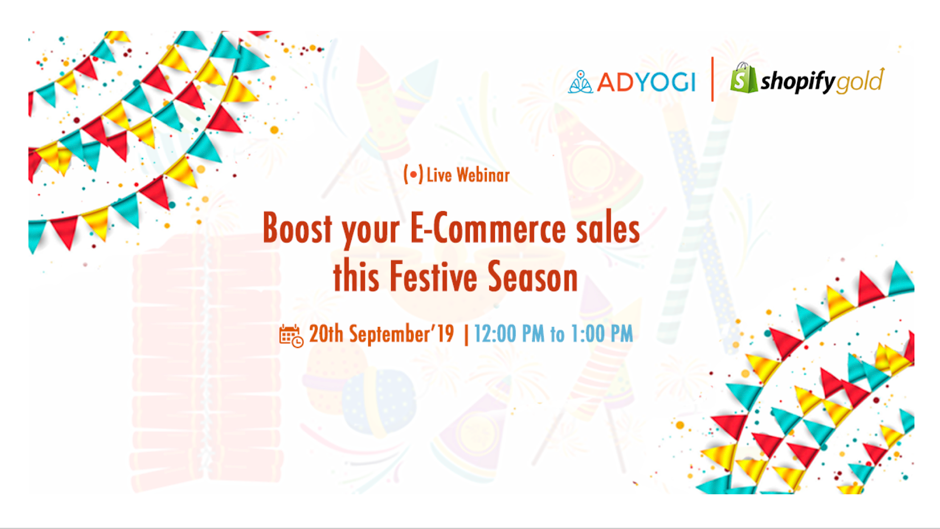 Manasvi:
Hi everyone. Thank you so much for joining us today. We would be waiting for two to three minutes for all the attendees to join and then we'll start the sessions. The topic for our webinar is "Boost your e-commerce sales during the festive season". My name is Manasvi and we have with us Anshuk Aggarwal, Swati Poddar, Smita Murarka and Shantanu Chauhan. To begin with, Anshuk will be giving us a short presentation about scaling e-commerce websites during the festive season and later we'll have our panel discussion hosted by Swati from Shopify, the Panellists for the discussion will be Smita from Amante with more than 16 years of experience with international brands like lifestyle and Bossini . Next up we have Shantanu, who is the senior Marketing Manager of Go Noise. He has had a phenomenal journey with noise going from two orders a day to four in a minute.

And lastly, we have Anshuk Aggarwal who is the co-founder of AdYogi. Anshuk has worked with over 150 Ecommerce brands over the last few years, helping them scale their online business with Facebook and Google ads. At the end of this session, we will be taking a few questions. So please enter your questions by clicking on the Q and a button at the bottom of your screen. We will also be sharing a recording of this webinar with all the attendees. If you have any doubts or questions, please feel free to drop your question on the chat and we get back to you. Now we'll be starting with Anshuk's presentation. So over to you to Anshuk.

Anshuk:
Thank you so much. Manasvi. Good afternoon everybody. Thank you for joining the webinar today. As Manasvi mentioned, we will be talking about how e-commerce brands have been able to scale their business successfully during festive season. So, this is the agenda for today. I will take roughly about 20 minutes for my presentation. I will start with some of the challenges which typically an e-commerce company faces during festive season. After which I will talk about the traditional marketing funnel, a little bit of a tweak to marketing funnel when you're talking about an e-commerce company. Post that I talk about 10 specific strategies which have worked with Shopify merchants when they are scaling during festivals and post that we have a Q & A session as mentioned. So very quickly, moving to challenges faced in scaling during festive season. We have come across a lot of brands which typically over the last few years, faced challenges during the festive season.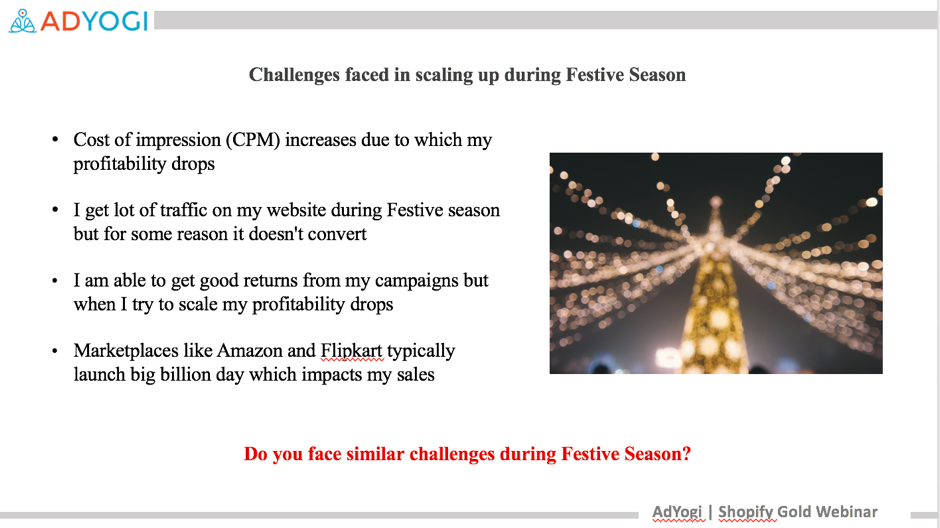 Anshuk:
If even you have heard that the CPM, the cost per impression increases during the festive season due to which the profitability drops. There are cases, where a lot of brands find themselves getting a lot of traffic on that site, but for some reason it stops converting or it does not convert as much as it would like to during festive season this could be because of the better discounts on marketplaces or things like this big billion days. We also hear complaints saying that you can getting very good response from my campaigns, but when they try scaling them, their profitability drops. Similarly, questions like marketplaces, big billion days what do we do during the big billion days should we continuously selling on our website or should we match the discount. These are some of the challenges that we have frequently heard from brands during festive season. As a part of my presentation I will try to answer few of these and I will also share some strategies which brands have used.

Anshuk:
So, this is a tradition marketing funnel. I'm sure a lot of you would have seen it at some point in your career, maybe in your B-schools or any of the marketing papers. This is a typical funnel like awareness, consideration, conversion and loyalty. I will keep this as my actual slide for today, but I want to make two small changes to this traditional funnel and I will say why I'm making these changes. The first one is Awareness. If you are an offline brand, you typically have a very limited area. So, if you want to reach out to people in your 3km-5km radius in which case an awareness might make sense because you want people to know about you. But think about an online brand. Typically, an online brand has maybe a 20 million target audience across India, just selling in India 20 million even selling outside India much higher than that.

Anshuk:
So, if you think from an awareness perspective, don't worry about running traffic campaigns but focus more on relevance of audience. Similarly, if you look at the third bucket in the marketing funnel it talks about conversion. Now in a purely technical sense, if somebody comes to your website and purchases even a hundred-rupee product is technically called a conversion, but what we have seen for a lot of brands is if somebody comes to the site and purchases the cheapest product, it might be a conversion, but it's definitely not a profitable conversion. Which is where we advise clients to focus more on selling more and selling high value products. So that, in a nutshell is my version of marketing funnel, which is more like getting relevant people to your website, make sure they are engaged with your product, make them buy more, buy high value product. And I talked to 10 strategies across the full buckets and they see how brands have been able to do scale spends and scale sales using these strategies.

Anshuk:
So very quickly starting with my first strategy, which is how do you get relevant people on your website which is where I talk about four specific examples. Let's jump straight into each of these examples. The first one is if you look at on the left side you'll be able to see the user is trying to search something like a pink dress. And when you look at the bottom, you see exactly the pink dress image. And you see a product from the brand called Bunaai. You see the name of the product and you see the price of the product. Now point to note here is the person is not searching for Bunaai. So, for all you know he or she may not really know about Bunaai. So, you here is a person who is searching for a specific attribute or product, not necessarily knowing your product. And when they click on this image, the land directly on your product page.
This is an audience which we call as high relevant audience because not only are they are interested in products on your site, they're also interested in specific attribute of those products on your website. This campaign is known as a Google smart shopping campaign. A lot spends of e-commerce use investing the time and energy into Facebook ads. But what they miss out on is campaigns like these, which can get you highly relevant audience, what we have also seen is when you run a Google smart shopping campaign, it also helps you get superior results on your remarketing campaigns across Facebook and Instagram. In this specific case, Bunaai ran this campaign. They were able to get a traffic up to about 1,60,000 highly intent traffic on their website.

Anshuk:
The second example in getting relevant traffic is from a brand called Shri and Sam, again a Shopify merchant. What they did is they ran a catalogue link ad of the festive collections. Now lot of us know about catalogue sales campaigns, but we know within the context of remarketing, which is a very popular product of Facebook known as Dynamic remarketing campaign. What some of do not realise is Facebook also rolled out this option of running Catalogue Sales campaigns for Prospects. Now this in Facebook language is known as dynamic ads for broad audience or DABA. Now what it does is you will be able to link your entire catalogue and be able to show ads of different products in your catalogue to your prospect audience. Specific things to note down in this particular campaign is what Shri and Sam did. First, they had strikethrough prices on the left side. As you can see there was a product at Rs.599 which was strikethrough at Rs.699. We assume that strikethrough prices are catching attention.
Secondly, what they did is they also added festive specific overlays. As you can see, you have a small diya on the right side, which is also able to catch attention of people, Facebook has this option of adding festive specific overlays or you can also add these overlays as a part of this image is on the left side. Finally, it has a price at the left side bottom, and the other product name as well on the left side bottom. Now, the good part about catalogue sales campaign is that in festive seasons you might realize that your inventory is moving very fast on your shelf. Some of your products might be going out of stock or your prices might be changing very dynamically. The benefits of catalogue sales campaign is that it updates in real time.
So, if your product goes out of stock and if you send that information to Facebook, all those products will be removed from your ad. When a specific Ad while creating images on platforms like Facebook, you will have to make sure you keep updating them, pausing your out of stock products. Benefit is that in a catalogue sales ad it all happens automatically. In this specific case where Shri and Sam ran a catalogue sales ad they were able to get 60% higher ROAS then other campaigns. Moving on third point is more around scaling up. So, a lot of times when we try to scale up our campaigns very rapidly during festive season we face two challenges. Number one if our target audience is not big enough we start seeing higher and higher frequencies and we also start seeing that our reach has remained the same. In order to counter that, what we usually recommend is when you are scaling up campaigns, broader your audience which means if you're running a 1% lookalike move to a 5% lookalike. If you are running a lookalike of only your customers try to run a lookalike of customers and add to cart audience.

Anshuk:
If you're running in specific cities in India, for an example try to see if you can run through a broader range of cities or maybe you can run to the entire country. So, broaden your targeting so that frequency does not increase when you scale up your campaign. The second related point is also you can use something called the "Cost Cap". Cost Cap is the strategy which allows you to make Facebook not bid very high for certain impressions. Which in turn helps you driving some profitability. The rule of thumb here is to start with the cost cap campaign. Let the campaign optimise before cost cap. Once it starts performing well, apply cost caps. In this specific case "Suta" that did exactly that. They are into woman fashion based out of Bombay and they were able to get around 11x returns on their Prospect campaigns purely by applying cost caps and using a very broad audience.

Anshuk:
The fourth thing in driving relevant audience is something which a lot of us must be aware of, it's about using rich creative formats. But I want to highlight two or three specific points here. Number one is just spending a big sum of money on platforms like Facebook. What we start seeing is that people are viewing the same creatives over and over again, what it leads to is something called ad blindness. So, all of a sudden click rates might be going down with relevant scores might be going down, but what you don't realise is that the relevance scores go down and Facebook starts penalising you as an advertiser which means your cost per impression also starts going up. So, what is usually seen in such cases is keep updating your creatives very frequently, try to use catchy ad texts or very attractive images and try to pilot it with different ad formats, if you are running only newsfeed start a slideshow, if you're running only video then you start a carousel ad. I'll show you two creatives which brands like Mulmul and Eyewear Labs have used. And they have been able to get superior results from these two ads. So, the first image on the left side is by a brand Mulmul, they're using this video creative of "Jhanvi Kapoor" wearing their clothes and this creative itself was able to drive them hundred sales on a weekly basis. Second on the left side is by a brand called Eyewear Labs. As you can see, they are using very rich images in their creative, it's slideshow creative and they are also highlighting different attributes of their products. This ad again gave them 5x returns on their ad spends by running this slideshow ad.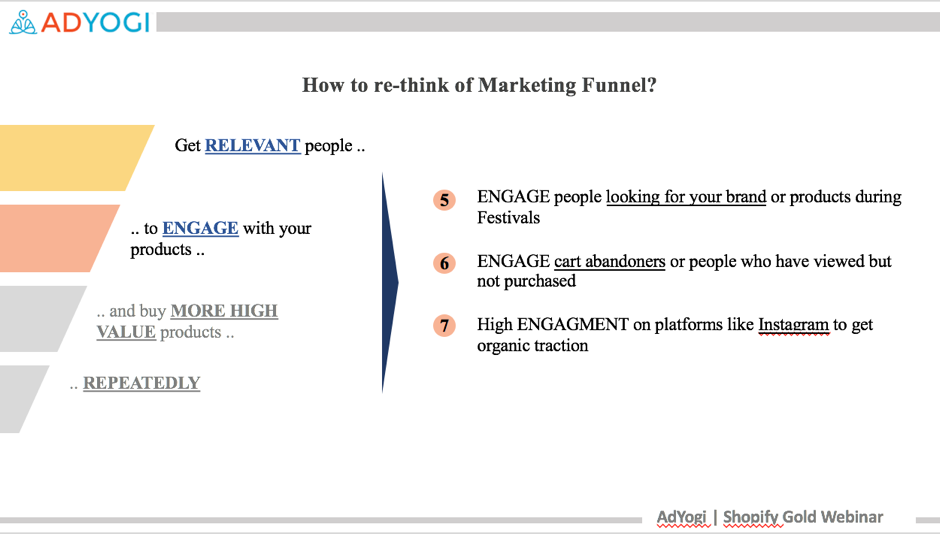 Anshuk:
All right, so we saw how people are able to get relevant audience on their website. Now all of us know that, when people come to the website for the first time, they most likely do not make a purchase, which is by engaging with people who have been on your website or have looked at your products becomes more important. I will talk about three specific examples on how brands have been able to engage with audience during festive season to get superior results.
Anshuk:
The first one is an example from again a Shopify merchant called "Two Brothers India Shop.com". They sale ghee and ghee products which may not be very apparent from their domain name as you can see. Now think about a ghee is also one of the products that people buy a lot during festive seasons because of it being a sweet. Now think about some user who would have heard about two brothers, maybe a few months ago, they may not remember the exact domain name of the brand, but when the festive season approaches, they might want to look for that particular brand, but that particular user will search something called "Two brothers ghee".
Now on the left side, as you can see two brothers was running a brand search campaign, which means anybody who is searching for their brand, they would show the ad of Two Brothers. If they were not running this brand ad, they might've lost this particular keyword to one of their competitors. As you can see, the competing ad also below the particular ad. In this specific case, when they ran the brand search campaign, they were able to get Rs.17 in sale for every Rs.1 spent on the campaign. So again, when people are searching for your brand, it might make sense to run a brand search campaign. The second example here is something which I'm sure all of us must be knowing about which is why I will probably spend less time on this slide.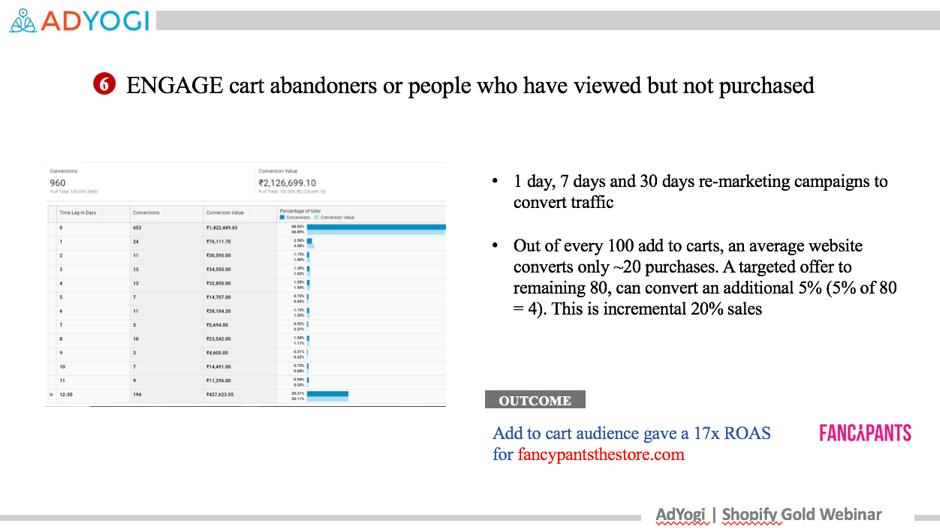 Anshuk:
On the left side, you will see a Google analytics screenshot of a brand called "Fancy Pants" again a Shopify merchant based out of Bombay. What you can see on the left side is about sixty percent of people who came to the website purchased on the first day itself. Which is this time lag in days in the left most corner, but they were about 40% people who came to the website and they purchased on the second day and third day up to the next 28 days. So, what makes a lot of sense is to run something called a dynamic remarketing campaign. Which basically shows them exactly the same products which they viewed on the website when they go to platforms like Facebook and Google. This could also be specifically for people who have added products to cart but not made a purchase, which is popularly known as the "Cart abandonment campaign". What we've seen is you can get up to 10% to 20% incremental sales by running this dynamic remarketing and cart abandonment campaign. In this specific case, Fancy Pants was able to get a 17 X return on their ad spends using cart abandonment campaign.

Anshuk:
The third in the engage is for a brand called "Suta" as I mentioned previously, Suta sells sarees based out of Bombay. Now on the left side is the owners of Suta they are very passionate about their product. So, they would keep clicking more and more photographs of their sarees and keep them uploading on Instagram on a very regular basis. What they have been able to do over the last couple of years is that, they had a very strong following of around 11 lakh people who have been actively interacting with their Instagram page on a regular basis. Now one thing which a lot of advertisers miss out on is when they re-market people on their website, they fail to re-market people on Facebook and Instagram. There is an option on Facebook and Instagram to show ads to people who are their fans on Facebook and Instagram. This is exactly what Suta did, they constantly ran campaigns targeting 11 Lakhs audience of Instagram and they were able to get 16X ROAS just by targeting their audience. So, quick thing to remember is to not miss out the people who are engaging with your social media when you are targeting your ads across Facebook and Instagram.

Anshuk:
So that brings me to the end of this Engaged section. You have been able to get people to your website, make feel engaged with your product, but the next big thing which you want to do is to make them purchase more and you want to make them purchase high value products. These two points becomes very important in case of Festive season. And I will talk about it in my next slide.

Anshuk:

This is an example of a brand called "Inkflap.com", again a Shopify merchant. They sell very fancy notebooks as you can see on the left side but the average order value of their notebooks is around Rs.399-Rs.499. Now if you can see the math on the right side. Typically, when you want to get a click to a platform like Facebook and Instagram, it will cost you anywhere between Rs.10 to Rs.30. Conversion rates on most websites are between 1%-3%. You can just do the math and you can figure out that the best case scenario in most cases is you can get a sale for Rs.330 and other extreme is around Rs.3000. This means for majority of websites the cost per sale will be lie between this range. Now if you're selling a product for an average order value of Rs.500, no matter how much you optimize your campaign it's very hard for you to get profitability because what you need to realize here is platforms like Facebook and Google, charge you the same impression cost if you are a selling a product for Rs.500 or selling an apartment for Rs.1 Crore. So, what becomes very important in this case to bundle your product. That's exactly what Inkflap did, they created combos of two notebooks, pack of three notebooks and pack of six notebooks and they were able to increase their AOV from Rs.590 to Rs.790 in a span of three months. This alone was able to increase their profitability significantly.



Anshuk:
Bundling is not the only way you can increase the average order value. Some of the brands also tried filtering the product. I will tell you what filtering means, if you look at the left side, there are two sets of products again from the same brand "Shri and Sam.com". The left side image is of a six piece set Katori cost around Rs.649 rupees and the bottom one is a 70 pcs Dinner set which costs as high as Rs.25,000. Now if you're selling on marketplaces, you would end up paying cut of your sale. Let's say if I'm selling this six katoris on Amazon, I'll end up paying maybe 20 to 30% of amount on Amazon, but when you're selling on your own website, as I mentioned, you are just paying by the impression costs, there is a goof likelihood that if somebody comes to your site and purchase the Rs.649 Katori set you will end up paying Rs.400-Rs.500 on Facebook. So, what might make more sense is to focus more on your high value products on your website and continue to run your discounted inventory or low value inventory on marketplaces. In this specific case, what Shri and Sam did is they filtered the entire set of products on their websites and focused on products which have an average order value of above Rs.1000 and they were able to increase their ROAS to 3x just by focusing on these products.

Anshuk:
That brings me towards the end of my presentation. I have only one last slide remaining which is about how do you drive loyalty? Now you've got people to come on your website, you've got them to engage, you've got them to purchase, but you want your customers to keep purchasing from you again and again, which is what my last slide is about.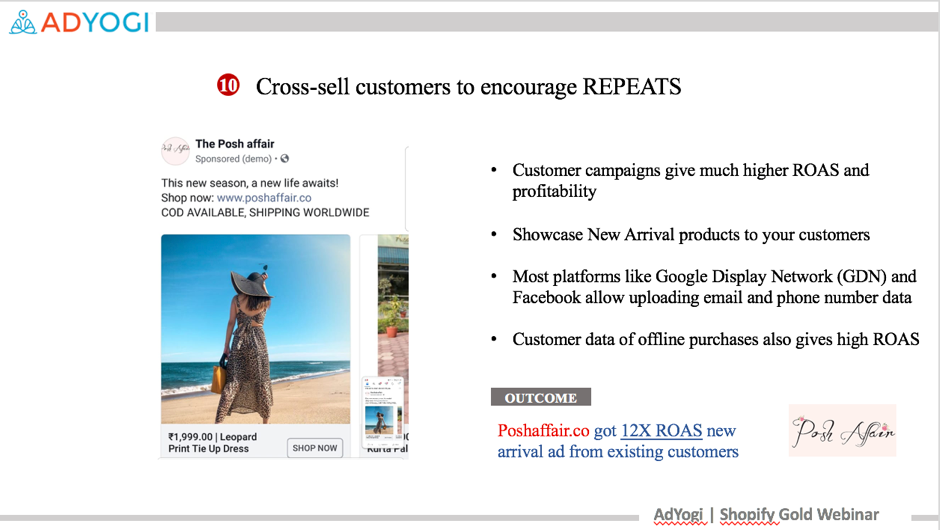 Anshuk:
It talks about a brand called "Posh Affair". On the left side, you can see an ad of new arrival products of posh affair. What they did is they created a customer audience on Facebook and Instagram and they ran a specific campaign for their customers targeting the new arrival products. For brands who have an offline presence, they might want to upload their offline customer data like email id's and phone numbers on platforms like Facebook and Instagram. Because all these platforms offer an option of matching the email address and phone numbers and they might want to target this audience on Facebook and Instagram. In this specific case, "Posh Affair" was able to get a 12x returns just from their audience.

Anshuk:
So just to summarize today's takeaway, during festive season or even otherwise focus on getting relevant people on your website, make them engage with your product, make them buy more and make them buy higher value products. That's the key takeaway from my today's presentation.
Manasvi:
Thank you Anshuk, that was a quite insightful presentation.